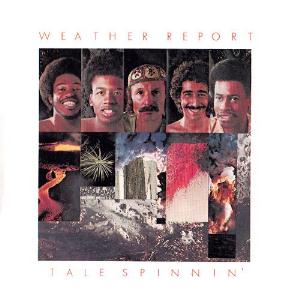 The fifth album from this US band.
Weather Report's music is probably the least accessible of the fusion who emerged from the Bitches Brew sessions (by Miles Davis). The emphasis has been more on jazz than rock in their music.
And that too is the case here. Wayne Shorter's saxophones and Joe Zawinul's keyboards is dueling over a bed of bass, percussions and drums. The music here is pretty funky and openly happy.
I am starting to understand this band now after purchasing the two Original Albums boxes (2 x 5 CDs for £ 10 each..... a bargain !). So I am getting into this. Tale Spinnin' does not really have the best music though. Not even great music. It is also a funky album too.
The music is pretty intense too and the duels between the two soloists creates some very good music. And this is a good forty-three minutes long album. But I have better albums from them than this one.
This is a good album which sorely lacks a great tune or two.
3 points