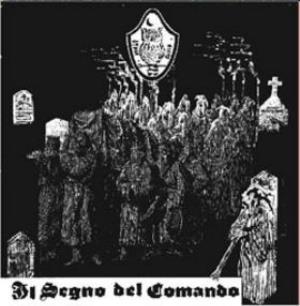 The debut album from this Italian band who has so far released three albums. I am pretty sure I have reviewed their third album..... No, I actually reviewed their second album Der Golem from 2002. I quite liked that album.
Il Segno Del Comando was a side project and probably still is a side project of another Italian band; Malbora. Some members here also plays in Ianva.
And I can clearly hear that in the sound and music of this album and band. We are talking very dark and occult Italian progressive rock. For some reasons, Italy have an occult progressive scene too. No other country have that. Not even Great Britain. I guess this is because of the very strong catholic church. Large parts of the imagery has been transferred from the catholic church to the occult scene.
The band was a six piece band here with Italian vocals (both sexes), bass, drums, guitars and keyboards. The music is very gothic and also a bit hard rocking. The music has a bit of a cathedral, religious feel to it too.
There is no good songs here and the sound is a bit dubious too. The art cover appeals more to the fans of really primitive black/thrash metal than the prog rock crowd. Frankly, this is not a good album at all. This is a decent album though and that is all I can say about it.
2 points