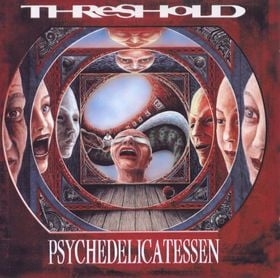 The second album from this British band.
Threshold debuted in 1993 with their Wounded Land album. An album I reviewed in September 2012 and quite liked. I have decided to review all their studio albums now, starting again with this one.
The band was a six piece band on this album with a lineup of guitars, bass, drums, keyboards and vocals. Glynn Morgan is the vocalist here and he does a good job.
Threshold has always had their own sound. A sound somewhere between prog metal and neo-prog. On this album, add a touch of power metal too. That and a big chunk of heavy metal.
The band adopted a harder, edgier sound on this album compared to Wounded Land. There is a lot of metal guitar solos here and the guitars are a lot chugging as in heavy metal. The sound is pretty big too.
There is really no good songs here and that is my main gripe with this album. There is also far too much heavy metal here for my liking. There is a lot of heavy metal cliches here.
The end result is an album somewhere between decent and good. This is not my type of album, I have to admit.
2.5 points