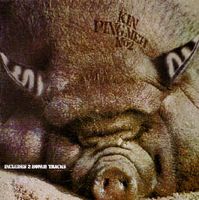 The second album from this German band.
The band was a seven piece band on this album with a lineup of guitars, bass, drums, keyboards and vocals. English vocals, that is.
Their 1971 self titled debut album was a pretty hard album. Hard but also very interesting and good. So I had hopes to this album.
The opening minutes of this album is pretty promising. Their version of the Beatles classic Come Together is a bit of a downer as it does not really fits this album, though.
The first part of this album offers up some good hard psychedelic progressive rock. This with the exception of the above mentioned Come Together. But most of the music is still good.
Unfortunate, the final half of this album is a bit weird to say at least. We get some country'n'western here. One song and I feel a bit deflated. Then we get some commercial rock/pop before the album ends on a better note.
This is an album of two halves and the band has spread themselves too much on this album. They have got a good sound and everything else. But that country'n'western track is horrible and does not really fit this album. Ditto for Come Together.
The end result is somewhere between decent and good. It is not album I really enjoy that much.
2.5 points