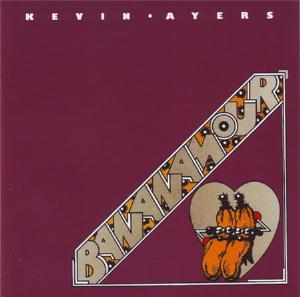 The fourth album from this English artist.
Kevin Ayers played on the first Soft Machine album and was loosely a part of the ex Soft Machine and Gong members scene who were pretty much everywhere in the British scene during the first half of the 1970s. He cooperated with Robert Wyatt many, many times.
Kevin Ayers was a rather stubborn, eccentric solo-artist who did things his own ways. So much that he was hailed as an icon when he passed away some years ago.
This album is he and ex Gong & Soft Machine members with some other persons too. Steve Hillage, Mike Ratledge and Robert Wyatt is here. So is David Bedford too. And some other people too. The lineup is guitars, keyboards, drums, bass, organs, woodwinds and vocals. Mostly Kevin's vocals. But Robert Wyatt also helps out on vocals.
The music is an eccentric take on pop-rock. The songs are pretty simple and in the The Beatles vein. A bit naive with some jazz and avant-garde stuff thrown in to make them a bit more eccentric. More like Kevin Ayers personality.
This album is not an easy listening album. Neither is it a particular difficult album to get into. My only gripe is the lack of any great tracks here. There is none on this thirty-five minutes long album. This album will satisfy the fans of Canterbury prog and those who like Kevin Ayers a lot.
3 points