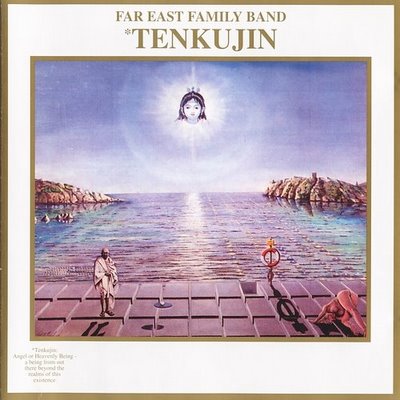 The fourth and final album from this Japanese band.
Far East Family Band was a five piece band with bass, drums, guitars, lots of synths and vocals. On this record, that is. Far East Family Band was also Kitaro's first band before he set out on his own after the debut album.
This band has been described as a Japanese krautrock band. Something I would not disagree with, taking this album into account.
Eloy is a good starting point here. The synths are pretty gentle and takes us through a mid-paced melodic, spacy landscape. This is clearly spacy krautrock.
Some of the space rock is pretty vibrating too with some good melody lines. The vocals is pretty much working as an instrument. They don't make sense too me and I am not sure if the vocals are in English or in Japanese.
There are some strings and some local Japanese instruments and sounds scattered around this album. A thirty-five minutes long album.
This album is a very pleasant meeting with the Far East Family Band. The music is good throughout without really becoming overly interesting. It is a good krautrock album.
3 points