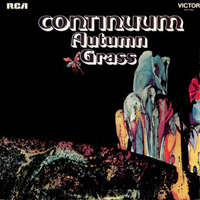 The second and final album from this Dutch band.
The band was now a quartet with a lineup of saxophone, flutes, harmonica, guitars, bass, drums and keyboards. Some guest musicians added cello, piano and gongs.
Their debut album was pretty much a horrible album. Most of all, it had some cheap and nasty attempts on folk and jazz. The music was simple and without much dept and longviety.
The band has thankfully expanded on their style a bit. The wholly instrumental music is again a take on folk rock, symphonic prog and jazz. Take a bit Focus + ELP and add a folk and jazz to this fifty minutes long album.
Some of this music is pretty introvert. Well, most of the music is very introvert with some avant-garde pieces too. Then you get some acoustic guitars pieces too.
The title track takes up more than half of this album, clocking in at twenty-seven minutes. It is not a good suite. It is pretty boring too.
The best parts of this album can be found on the three first tracks. They are decent enough. The rest.... Pretty bad.
Nevertheless, this is an improvement on the debut album and a decent album. Check it out if this seems tempting to you.
2 points