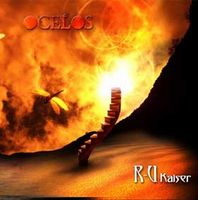 The one and only album from this Chilean band.
Ru Kaiser was a five piece band with a lineup of guitars, bass, drums, keyboards and female vocals.
Barbara Wilson's female vocals are great and the best thing about this album. An album listed in ProgArchives as symphonic prog. Something I don't agree with at all.
Yes, this half an hour long albums got some influences and riffs from the likes of Yes. But most of this album is somewhere between goth rock, goth metal and some prog metal.
The vocals reminds me a lot about Kari in The Third And The Mortal. The guitars are pretty harsh and gothic. The music a mix of The Third And The Mortal and prog metal.
This combination does not really appeal to me. Neither do the sound make me happy. The quality of the songs are not that good either.
The end result is a decent album. An album I would rather forget as it is not my cup of tea. But check them out.
2 points