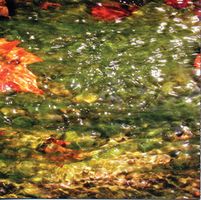 The fifth album from this Spanish band.
The band is a trio with a lineup of bass, drums, percussions and guitars. They also got some guest musicians here. A saxophone is the only other instrument here and a female vocalist screams sounds into the microphone on one of the tracks.
In short; this is an instrumental album. An hour full of it, no less.
The music is very minimalistic and based on the most minimalistic of King Crimson's music. Genre wise, that is. They have not stolen/copied anything from Robert Fripp & Co.
For me, this whole album sounds like ideas and not really fully songs/tracks. Well, they are tracks. But they are minimalistic and pretty bare boned tracks.
The bass and drums is the basis on where the guitars is playing. And you cannot do much with that lineup. And the band has done far less than even that.
There are some decent stuff here which saves it from the turkey yard. But I am not won over by any means. This is not for me.
1.5 points