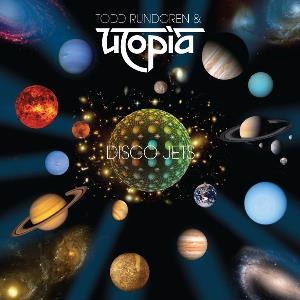 The second album from the Todd Rundgren side project.
This band is off course from USA and this is the follow up to their debut album. An album I really liked. Disco Jets has gone unnoticed in for example ProgArchives where there is no reviews of this album. It soon became clear to me why other reviewers are avoiding this album as if it was the plague....
Utopia was here a quartet with a lineup of guitars, drums, bass and lots of lots of keyboards. Roger Powel is the keyboardist here and he is working himself to the ground on this album.
And yes, there is no coincidence that the album is called Disco Jets. Disco it is throughout these thirty-three minutes. Instrumental disco. This is music for the disco clubs.
The music here is a mix of fusion and what later became disco. Remember the Saturday Night Fever movie soundtrack and the instrumentals on that album ? This is in the same vein.
This is a terrible album with no redeeming features whatsoever. It is indeed a turkey. I hope the Ra album is far better than this album.
1 point