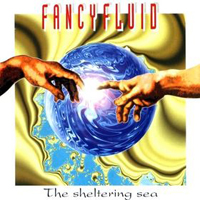 The third and final album from this Italian band.
FancyFluid released three albums between 1990 and 1995. They did not get much of a breakthrough and their albums is difficult to find.
On this album, FancyFluid was a five piece band with a lineup of synths, bass, guitars, drums and English vocals. The typical neo-prog lineup and that is exactly what we get here.
Neo-prog in the early 1980s and 1990s vein. Think Marillion here. Think the rest of the 1980s British neo-prog bands too. Add some symphonic prog too. Banco springs to mind here. So does Genesis.
This album clocks in at seventy-two minutes. It has ten songs. The longest one is twelve minutes long. The shortest one is five minutes long.
The sound is very dry and the vocals not particular impressive. The music so generic and so dull that these seventy-two minutes x several times to make a review does not really light up my life. The vocals are pretty annoying and there is not much to make me happy here.
This album is not a turkey. It has a couple of good melodies. Neither is it any good album. Hence my rating. Forget this album.
1.5 points