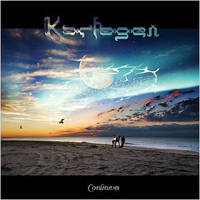 The debut album from this Ukraine band.
Karfagen is really the prolific keyboards wizard Antony Kalugin with hired musicians. In this case and on this album; three musicians who does bass, vocals and piano. Antony does the rest.
There is also some female vocals here which is uncredited. The guitars here is samples and programming done by Antony himself.
The music here sounds surprisingly organic and folky. Folky as in folk music. I had expected a mad Ukraine professor and his army of keyboards. Well, I was wrong here and pleasantly surprised.
This is actually the reason why I, with the exception of a review for ProgArchives back in June 2010 of their second album, has ignored this band. I have heard enough mad keyboards professor music to learn from my mistakes.
This album has got some good Ukraine based music and is rooted in this country. Or, this is how I read this music and this album. And Ukraine is a nice country, although war-torn at the moment. I feel Antony has conveyed the beauty of Ukraine here. Or maybe that is my imagination. But that is music for you. It here so we can drift away in our own world.
The nice spell of Ukraine beauty is just broken by the vocals and AOR stuff at the end of this forty minutes long album. Something of a bad ending to this album.
Hence, I am happy with the instrumental bits and not happy at all with the ending and the vocal bits. The end result is a decent to good album. An album well worth checking out.
2.5 points