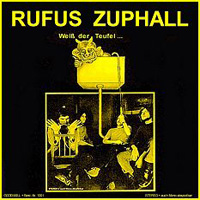 The debut album from this German band.
This band from Aachen on the German, Belgium and Dutch border went onto releasing three albums between 1970 and 1999.
The band was a four piece band with a lineup of guitars, flutes, bass and drums. The music here is entirely instrumental.
The band has always been compared with Jethro Tull because of the flutes which is here played as Ian Anderson played his flute in 'Tull. This is a reasonable comparisson. But it is far from being the full story.
Take a chunk of blues and folk rock. Add a very big chunk of krautrock and you get this album. There is a lot of hard krautrock and blues here. There is even a drum solo here.
This is by no means an easy listening album. It is pretty close to being a hard rock album anno 1970s. The music is not as classy and polished as Deep Purple or even Black Sabbath's music at that time. There is something primitive, untamed about this thirty-eight minutes long album. Even the few bars of the jazz standard Summertime is a pretty wild piece of music.
The music is good throughout though. There is a lot of good melody lines and ideas scattered around this album. I would recommend this one to everyone into hard krautrock. You are in for a treat here.
3 points