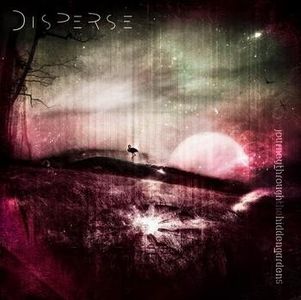 The debut album from this Polish band.
I have to admit that prog metal sends shivers down my spine and I normally run fifty miles in the opposite direction just to avoid it. Polish prog metal sends me running eighty miles. By mistake, I thought this was neo prog so I went for it. What I got was progressive metal...... and neo prog.
Disperse's sound is the typical slightly melancholic Polish sound. No wonder with their history. Holocaust, invasions galore from east, south and west and a lot of poverty. Melancholy explained.... But this is a good sound though although I am pretty sure the Polish people could have lived without it. God bless the Polish people. No, I am not sarcastic. I am honest.
OK..... Disperse has got the balance between prog metal and neo prog almost spot on. There is plenty of guitar solos here, good melody lines, a great keyboards sound, good drums and bass + a very good vocalist. This gives Disperse almost their own sound. Well, they does this sound better than the vast majority of the bands who has tried this sound. This album is vastly better than most other prog metal neo prog crossover albums I have been listening to during the last ten years. This being their debut album, they most certainly have a good base to work out of. My only gripe is the lack of any great tracks here. This is still a very good album who has restored my belief in this crossover genre.
3.5 points