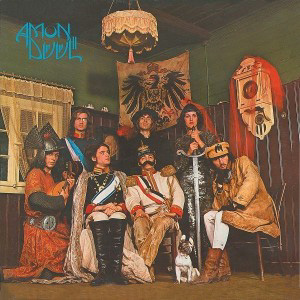 Their eight album and an unexpected turn into conceptual symphonic prog. Sort off.......
This art work and the music has a concept album feeling hanging over it. Or the feeling I got when I was listening to Clash's Sandinista album. That too was a strange album coming from a band you believed you knew. Made In Germany (and Sandinista) turned that belief uside down.
Well, in the case of Amon Düül II and German krautrock bands, expect the unexpected. This album continues down the folk/space rock and standard rock autobahn the band had set out on some albums ago. There is not much space rock here though and the music also have a strong cabaret feel over it too.
The end result is pretty strange and very German humour, krautrock like. The feeling of witnessing a cabaret is at times overwhelming. This album is a cabaret. There are some good songs here though on this album which requires a lot from the listener to sink in. I have actually started to like this album so it is a weak three pointer from me. I wonder what the next Amon Düül II album will bring me on my journey through their discography...... a horse ?
3 points