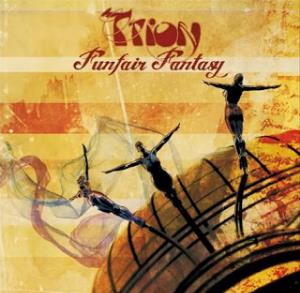 The third album from this band which is a cooperation between members from Flamborough Head and Odyssice. A Dutch band in other words.
Trion is an all instrumental band who drenches their music with mellotrons, flutes, keyboards, drums and bass. A lot like Camel, Greenslade and Genesis in other words. This band's reason to be is to honour those bands, according to themselves.
Funfair Fantasy is very much in this tradition. After a pretty strong opening with some good symphonic prog, this fifty-three minutes album tails of at the end with some pretty uninteresting tracks. Tracks in the shopping mall tradition. That is my gripe with this album. There is not much good music here to carry it through the whole album and the border between symphonic prog aka Camel and plain lounge and even shopping mall music is a bit blurred here. In short; I don't find much great music here.
When that is said, this is a good album in the Camel/Greenslade tradition. An album also fans of Anglagard will like a lot. If this is your type of music, this album should be purchased.
3 points