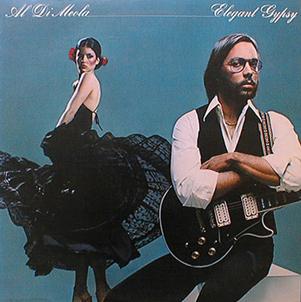 His second album and perhaps the album where he really established his sound and niche in the music world.
Enter the Spanish guitars. A considerable chunk of this album is Al Di Meola and his Spanish guitar. The rest is he playing his electric guitar. All of it with a Spanish twang and sound. Yes, and Django Reinhardt of course. The gypsy king who laid down the rules for guitar playing as we know it today.
In addition to Al Di Meola's guitars, we also get some excellent bass, drums and keyboards.
The result is a very good fusion album. A very Spanish album, yes. That adds class and style to this album. I am missing some killer tracks here as I find the material slightly underwhelming. It is still a recommended album.
3.5 points