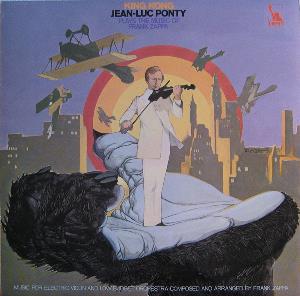 My first ever encounter with a Jean Luc Ponty solo album although I know his violin from many of my favourite albums. So it is about time to check out his solo albums.
This is not a Jean Luc Ponty album per see. It is much more a Frank Zappa album as he is the conductor, the composer and the producer. The album is also pretty much in his spirit and very avant-garde at times. It starts promising with a lot of fusion and I am thinking that I am in for something like I have heard on his other albums. It soon takes a sudden left turn and goes into solid Frank Zappa territory.
Avant garde in other words with dense music which reminds me a lot about RIO bands like Aranis. Much of this music is modern classical music too. Not much fusion in other words and not much Jean Luc Ponty either. Instead, we get a lot of musicians (10+), instruments and noises.
The music is not too bad. But it is not exactly good either. Sometimes, avant garde music does not make much sense. This album is one of them. It is a decent album nevertheless which slightly disappoints me. Onwards to a more proper solo album in my quest to find the soul of this man.
2 points