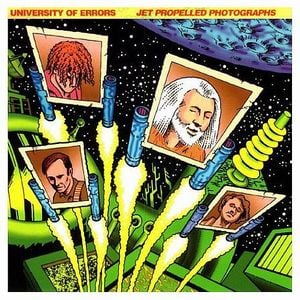 A redo of the legendary Soft Machine demo from the late 1960s.
This Soft Machine demo has also been released on CD too and is still available, I believe. Robert Wyatt was the vocalist. I believe Daevid Allen, who also played on that demo before he was rejected re-entry to United Kingdom (= had to leave Soft Machine), was not too happy about the vocals and had always wanted to re-record this demo and release it. This chance came about in the shape of this band, University Of Errors. This band is one of the many projects Daevid Allen set up in addition to running Gong. Daevid Allen is the vocalist on this album and he is supported by some fine musicians too.
This version of Jet Propelled Photographs is a re-recording of the Soft Machine demo with a lot better sound and with Mr. Allen's take on the songs. The new versions has a lot more powerful guitars based chords and a new sound. What I am missing from this album is the old charm and the 1960s feeling the old demo had. The 2004 version sounds a lot more clinical and better excecuted. But I still very much welcome University Of Errors's take on these songs and I really like this album. It is a good album which adds another dimention to the old Soft Machine songs.
3 points