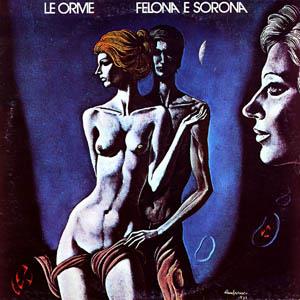 (review written and published 27. September 2009)
The second issue of Classic Rock presents Prog issue claims this is one of the best ever Italian Prog Rock albums. So I duly investigated this claim.
I am not an expert on Italian Prog Rock or progressive rock in general. I therefore cannot dispute this claim. What I do not dispute is that this album is a piece of very beautifully crafted progressive rock. I sincerely hope this album is typical for the Italian scene.
This album comes as two long pieces of music. It is about two different planets; one good and one bad. That is as far as I know. Anyway; the music is the one that matters here. The music is generally pretty dark and pastorial. It is also very beautiful throughout. The music is as whole keyboards dominated. Keyboards and this wonderful vocals which weaves around the music in a perfect manner. In other words; the vocals are perfect or even better than that. I have stated this before and I say it again: The Italian language is perfectly suited to symphonic prog. I do not understand a word of what the vocalist sings so the vocals is for me "just" another instrument in Le Orme's sound. Perfect ! The sound is as stated above pastorial with changing themes. From pretty hard to very mellow. Mostly mellow and melodic. The keyboards sometimes creates some very grand and majestic pieces of music here. Pieces of music that has etched itself into my head and will probably forever be among my favorite music.
The quality is excellent throughout. My only small gripe is the last minutes with this techno rhythm like pieces. I do not feel they have any place on this album. But besides of that; this is perfect album. If this is Italian symphonic prog at it's best; I will raid Amazon and Ebay for more of the same. Viva Le Orme !
4.5 points