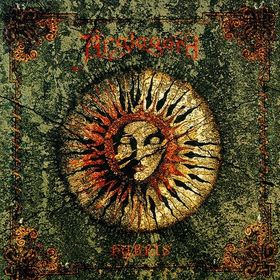 One of the truly legendary albums and an album who defined a whole genre. The genre is Scandinavian symphonic prog. Or as it is also called; melancholic prog. It is impossible to overstate the importance of this album.
Anglagard was a short lived band though and Hybris was their debut album. It draws pretty heavy on both Kaipa and on Ingmar Bergman's movies. The whole depressive, melancholic Scandinavian culture has been distilled into Hybris. In it's wake, a whole scene suddenly appeared. The rest is history.
Most of the melancholy and depressions here is being played out by the mellotron sound. This album is drenched in lush mellotron and hammond organs. There are some vocals and some guitars here too. But they are quite rightly being pushed back into the shadows by the mellotron.
The music too is lush with several excellent melodies. Most of them are melancholic and pastoral. But the band also burst into some powerful melody lines in support of the dark melancholy.
The opening instrumental track Jordrök is one of the best ever songs to come out of Scandinavia. The rest of the album is superb too. That does not remove this album's status as one of the progressive rock's masterpieces and a must have album. It is as relevant today as it was twenty years ago too. It is a truly brilliant album.
5 points