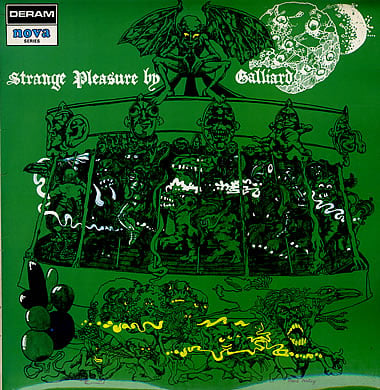 A two albums band from England, if I am not wrong. Both albums released on the famous Deram label. And with good reasons too.
I had never heard about this band before I got their two albums (released on CD as 2 for 1) some weeks ago. I was in for a nice surprise though.
Galliard does a nice hippie mix of space rock and folk rock. What makes this album and Galliard stand out from the numerous other bands in this scene is their use of brass. Trumpets, to be more precise. With brass, they moves the music in the direction of flamenco and Tijuana (Mexico) jazz. They have also added a lot of racy, heavy electric guitars and Hammond organs to that mix. That and some great male vocals. The result is a sound which really need to be heard to be believed.
It does not hurt that this album also includes two great songs in the form of I Wrapped Her In Ribbons and A Modern Day Fairy Tale. Both of them may have been hit singles, for all I know. The rest of the songs are not of that high standard, although Frog Galliard is a very good song. The songs are rather short and sweet too.
This is very much an album of English music, though and best enjoyed with English cider on a nice summer day. If released today, the music would had been popular on the gigs circuit. Galliard and this album is a very nice addition to anyone's collection of late 1960s/early 1970s albums.
3.5 points