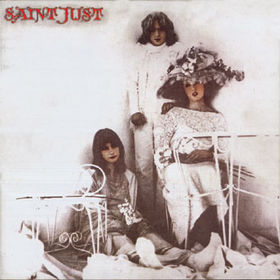 The debut album from this Italian folk rock band.
Saint Just was fronted by the female vocalist Jenny Sorrenti, the sister of Alan Sorrenti. And this album is not really a folk rock album either. This review therefore starts of with these two bombshells.
OK, the basis is folk rock. From that basis, the band expands into a more krautrock and psychedelic rock landscape. You get a bit Gong here and there. Fairport Convention too is the folk rock contribution. There is also some Area like jazz here. Jenny Sorrenti's very good vocals keeps it together. Her vocals is supported by guitars, saxophone, piano, organ, drums and bass.
The music is at times pretty theatrical with some kitsch thrown into the mix too. Whimsical is the word. Avant-garde too is the word. That makes this a pretty special album, not for the faint hearted. Jenny's vocals is not exactly blue-eyed.
Removed from all the make ups and all the other distractions is a good album where not everything is great. There are some very good songs here though. This is a debut album where everything goes. Which is fair enough, the 1972 spirit. In short; this is a good forty minutes long album.
3 points