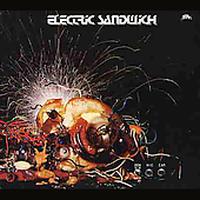 The one and only album from this German band. Nothing has ever been heard from this band again.
We are again in krautrock territory. Krautrock with a lot of jazz, soul and blues. The saxophone is pretty dominant and adds a lot of life and colours to this album. There are also a lot of good guitar solos here. The mix of guitars, melotron and saxophone is very good here. Ditty for the vocals which is very good. The bass and drums adds a lot of thunder in the krautrock vein.
The sound is very good on this forty minutes long album. The album still has this late 1960s feel. It also got this south states jazz and blues feel. Not to mention a great soul feel. Add the German spacy muddy sound to it and you got a krautrock album.
The songs are pretty much verse-chorus-verse dominated and the band is not letting themselves loose in outer space as most other krautrock bands was doing from that era. The saxophone is compensating for that, though.
I have to admit this is not really my cup of tea so I am a bit sparse in my compliments. There is no really goods songs or melody lines here either. Bigger fans of krautrock should check out this album. I am not bowled over though.
2.5 points