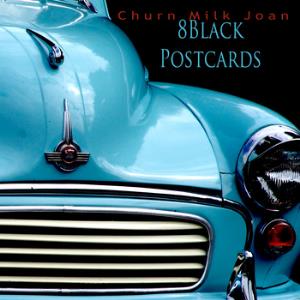 Churn Milk Joan is a two man band consisting of Richard Knutson and Colin Robinson. It is a side project of Big Block 454. Well, that is probably unfair towards the much travelled and highly experienced Richard Knutson as he is not involved in Big Block 454. Anyway; USA meets Yorkshire. The result is Germany.
...or krautrock to be precise. 8 Black Postcards is the third album from this highly productive band who has just released their fourth album. I will catch up with that album later.
This duo named Churn Milk Joan makes surprisingly lush krautrock with some Depeche Mode and avant-garde influences. Yes, their studio is good and you can make a lot of noise with a good studio. The sound is really superb and professional. This is not a garage product. The music on 8 Black Postcards is krautrock in the Can and Faust vein...... I have been told. I know Can, but not Faust. Anyway, the two distinguished gentlemen is using a lot of guitars, voices, drums, bass and sound effects to churn out their music. Some rather confined, claustrophobic music. Rather lush too. I gladly admit this is not an area I am familiar with. But I find the music rather good and I like what I hear. The music is streamed from the link enclosed so check it out yourself. You will not regret it.
3 points
Their Bandcamp page