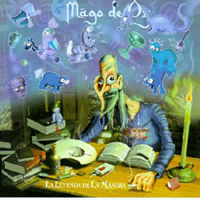 The third album from these Spanish folk metallers.
Folk metal has been quite so popular since..... well, since Thin Lizzy started out in the beginning of the 1970s. Although they were a much more hard rock folk band. Mago De Oz though combines power metal with celtic folk rock. That means plenty of jigs with flutes and violins in addition to the usual power metal guitars. References are mostly Skyclad. But the Spanish vocals sets Mago De Oz apart from the rest of the scene.
The music is happy chappy party throughout the 60 minutes. Mostly, that is. A couple of power ballads breaks up the wild parties too. Terrible power ballads, that is.
The musicians is doing their best and this album is not a disaster zone. But I have big problems finding anything good to say about this album. This album is not for me and I award is a pretty decent status.
2 points