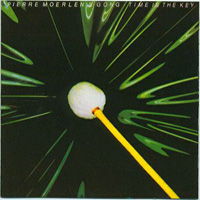 This is Pierre Moerlen's version of Gong and we are talking straight funky jazz here. He's got the likes of Hansford Rowe and Allan Holdsworth with him on this album.
Gone is the adventerous open landscape from the previous Pierre Moerlen albums. Time Is The Key has a very minimalistic, one dimentional soundscape which leaves very little room for the material here to breathe. The music here is compacted into small pieces. This album too has a punkish feeling to it as the Daevid Allen lead Gong album About Time from the same year. Coincidence ?
Despite of Pierre Moerlen taking a step backwards with this album, I still like the music here. The percussions and Allan Holdsworth's guitars does it for me. The same goes for the convoluted, but still impressive solos. But this is by no means a great album though. I prefer the other albums to this one.
3 points