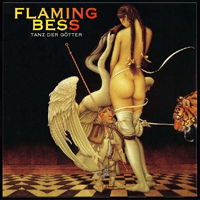 The debut album from this German symph prog band who are still going strong. They released a new album earlier this year. It is about time for me to check them out, then.
Flaming Bess comes across as a mix of Camel and Eloy on this album. No less and no more. Their music is mostly instrumental with a lot of keyboards, guitars, bass, drums and some woodwinds. The music is not particular intense. Neither is it lounge music. The krautrock influence is very strong on this album. It is obvious that this album has been released by a German band. But Camel is still also very much present in their sound.
The music is pleasant enough with some long electric guitar and keyboards runs which really pleases me. A couple of great tracks would had been great though as this album lacks a bit bite and substance. It is still a good album and a great album for anyone who really fancy instrumental symph kraut prog. I can understand why this band is popular, yes.
3 points