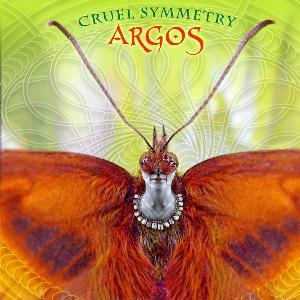 The third album from this German neo prog band.
It is a pretty fair observation that Germany has their own neo prog scene which largely is different from the British neo prog scene. The German sound is darker and much more art rock dominated. Their sound also incorporate a bit avant garde, kraut, eclectic and canterbury. Argos is very much in the forefront of this scene with Cruel Symmetry.
The band has branched out into Canterbury prog on this album. Caravan is an obvious inspiration here in addition to the sound being rooted in the typical neo prog landscape. Add a large dosage of Van Der Graaf Generator too and you get this pretty dark neo prog album. An album where also flutes is incorporated into a landscape filled with synths, guitars, bass, drums and a pretty dark Peter Hammill esque type vocal.
The result is a good to great neo prog album and one of the best I have ever heard from this scene. A very majestic album which soars towards the sky, but never get burned by the sun like Icarus did. The songs are long and symphonic. Fans of symph prog will lap up this album too as much as I do. This is a great neo prog album and band which deserves a lot more credit than it gets. It comes highly recommended.
4 points