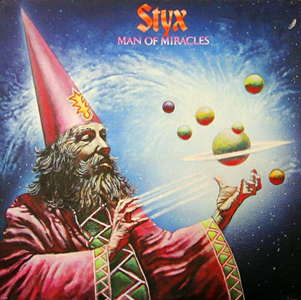 The fourth album from this US band.
The band was a five piece band here with a lineup of guitars, bass, drums, arp, keyboards and vocals.
It is my understanding that this is the final of the pre-classic Styx albums. I have been told I should not judge this band on this or any of the three previous albums. But I am still reviewing these four albums. See my other three reviews
here
,
here
and
here
.
I do like to review odd and obscure albums. I have therefore reviewed these albums.
I have always regarded Styx as a pomp prog band. Rightly or wrongly, though. There is some pomp on this album. At the end of this album, that is.
Most of this album is hard rock. US hard rock where big is better and gigantic is the norm. USA is a big country, strutting with self-belief.
The music here is strutting like a peacock and as arrogant as a mountain lion. This is a brash, big thirty-minutes long album. It is very loud and youthful too.
Unfortunate, there is not much positive to say about this album. The music is bordering to power-pop on far too many occasions. The bubblegum and throw-away factor is pretty large here. The music and lyrics is very light on substance......... and quality.
This album just falls flat on it's face. It is still a decent album. But I hope I will get some more quality on the next Styx albums I am reviewing. So far, I am far from being impressed.
2 points