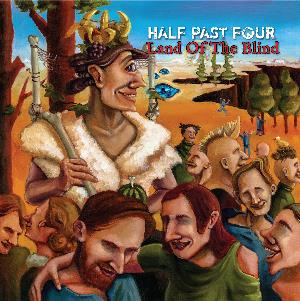 The third release from this Canadian band.
The band is a five piece band on this album with a lineup of chapmann stick, guitars, bass, drums, keyboards and female lead vocals. There are also some male backup and lead vocals here too. But Ms. Kyree Vibrant does most of the vocals.
This is strictly speaking an EP lasting twenty-six minutes. It is as long as many album from the 1970s. Since I love the art work and finds the music interesting, I am reviewing it.
Half Past Four has previously released two albums. Their debut album Rabbit In The Vestibule back in 2008 and the follow up album Good Things in 2013. Both critically acclaimed in
ProgArchives
.
Their music on this EP is very eclectic with a lot of avant-garde stuff, jazz, some neo-prog and some Gentle Giant like eclectic prog. There is also a lot of references to the US band B 52s.
The underlaying feeling here is that the band is making fun music with a lot of twists and turns.
The vocals are really good and so is the musicians here. The music is diverse and twisted.
The quality of the music is also good throughout. It makes me both smile and approve of this band. A band I think has a lot to offer. A band just bubbling under the surface, ready to become a big band.
Check out this EP.
3 points