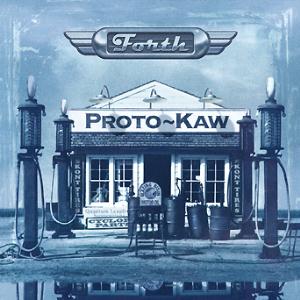 The third album from this US band.
The band was now a seven piece big band with a lineup of guitars, bass, percussions, keyboards, drums, saxophone, flute, male and female vocals.
Proto-Kaw is the original Kansas and Kerry Livgren is the main man in Proto-Kaw. He was also the main man in the first version of Kansas. The one that Proto-Kaw has returned as. So no violins, Steve Walsh and Steve Morse.
Forth is also the final album before Proto-Kaw were disbanded as a result of Kerry Livgren's illness.
Kerry Livgren got a stroke in 2010 and I am not sure if any of this album was recorded after that date. I have also been told that there are some pre-Kansas songs here too.
I pretty much liked their first two albums which I have reviewed
here
and
here
. There was some good music on those two albums.
Forth is cobbled together with some old and new tracks. And it is not much on this album who connects this album to Kansas..... or the previous Proto-Kaw albums.
AOR is what we get here. Pretty bad AOR too. It says it all that it is really the old stuff here, the pre-Kansas stuff, who comes out best here. The more new stuff is falling well short of any good standards.
This is in short a pretty decent AOR album who does not enthuse me. Hence my rating of this album.
2 points