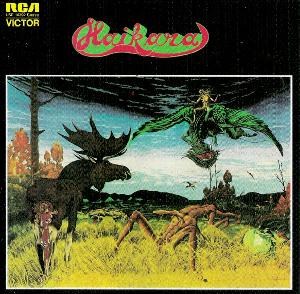 The debut album from this Finnish band.
The band was a five piece band with a lineup of tubular bells, clock bells, tamburine, saxophone, flutes, organs, guitars, bass, percussions, drums, piano, triangle and Finnish vocals.
... Eclectic and exotic indeed....
This was the first of in total five albums this band released before their final album in 2001. The band changed style and genres on the albums, according to
ProgArchives
. I only got this album so I don't really know.
This album is indeed an eclectic prog album. It has everything from Mexican tijuana jazz to a lot of King Crimson'esque like rhythms and melodies. There is also a lot of Finnish folk rock, hard rock and avant-garde prog here too.
The Finnish vocals also add a lot of eclectic prog feel too.
There is a lot of strange stuff on this forty-four minutes long album. The album never really gets boring or dull. Just interesting and good. Very good in fact.
There is no great songs here. But the overall quality is very good throughout this album. An album I really recommend to you all. Check it out.
3.5 points