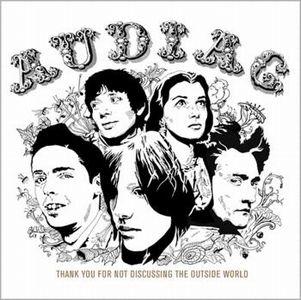 The one and only album from this German band.
Audiac was a five piece band with a lineup of programming, turntables, electronic drums, bass and male English vocals.
This band is very obscure with no reviews of this album at their
ProgArchives
page. Which is a shame because all artists and bands deserve a review and some response. All the songs on this album is available through Youtube so go forth and give them a listen and a review if you are a reviewer. This album is worth it.
This album starts out as a Marillion, the Steve Hogarth era before it takes of via strong Gazpacho influences towards a much more psychedelic landscape. The music is also pretty avant-garde too. But Gazpacho is the nearest reference I will put on this album. A pretty faint reference, though.
Listed as a neo-prog band in ProgArchives, this album is not offering up much neo-prog. Eclectic prog would be the label I would put on this album. Eclectic prog, it is.
The music has a lot of distortions and loops. A lot of programming and a lot of pained soundscapes.
A lot of strange twists and turns.
The vocals is very good. The music is weird, weird, weird. But the quality is good. Check out this album as you may find a hidden gem there. It is a hidden gem. Period.
3 points