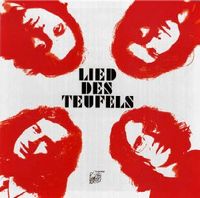 The second album from this German band.
The band was a quartet with a lineup of guitars, alto sax, flutes, bass, drums and German vocals.
I am a sucker for krautrock and I spend some time on Youtube, looking for obscure krautrock bands and albums which has been included in ProgArchives.
Hanuman
is one of those bands and this is the only album out of their in total three albums I could find with this band on Youtube.
I have to admit this is a good hobby which sometimes comes up with some great albums and bands.
Hanuman has come up with this forty-two minutes long album. An album well within the krautrock genre. The more accessible rock part of the krautrock genre.
Most of this album is straight rock with some heavy blues and jazz influences. There are also some heavy folk rock influences on this album.
The music here is twisted enough to be interesting and a bit special. There are some good harmonies, mainly by flutes, which I find very interesting.
That aside, this album is obscure because it is not good enough to really give the band a breakthrough. So they will always remain a footnote and an abscure band. I have heard their debut album is much, much more interesting than this album.
I would rate this album somewhere between decent and good. It is good enough to be check out as the sound is very good and will do justice to your headphones or speakers.
2.5 points