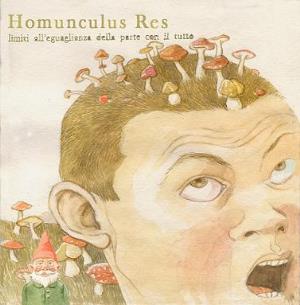 The debut album from this Italian band.
Homunculus Res is a six piece big band with a lineup of glockenspiel, woodwinds, keyboards, minimoog, organ, piano, percussions, drums, bass, guitars, synth, flutes and Italian vocals. Four guest musicans is also adding additional instruments.
There is no hiding that this band created a small sensation with this album. And with good reason.
With a name like this and an album title like this very long one, it is obvious this is not a run of the mill band and album.
The band is Italian and they have been very heavy influenced by one of my favourite bands; Picchio Dal Pozzo. So we are talking an Italian band going Canterbury scene here. And that is a lot of the basis of this almost fifty minutes long album. But there is more to it than that....
Add a lot of PFM and Le Orme too. Add Soft Machine and the Italian avant-garde bands too.
The music here is pretty abstract, playful and surprisingly melodic too. The band jumps in and out of melodies at will and with no efforts.
Inbetween the short and long melodies, there is also some very good avant-garde pieces which is very playful.
There is a lot of Italian madness here and a lot of Italian joy of life. Italian smiles and optimism. A lot of quality too. This is a great album and just what the doctor ordered for both this scene and my own health. Check out this great album.
4 points