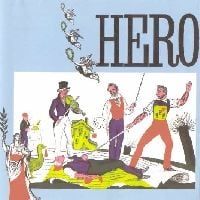 The one and only album from this Italian band.
The band was a trio with a lineup of guitars, bass, drums, keyboards and English vocals.
Not much is known about this band. But Black Widow Records re-released this very obscure album on CD some years ago. It is still a very obscure album.....
This band and this album does not really fit into the Italian progressive rock (RPI) scene. The sound is very un-Italian. So we have to take the train under the Alps to get to the country where this album really belongs to.... Germany.
OK, there are some hints of RPI scattered around these forty-six minutes and nine songs. But this is essentially a krautrock album.
There are a lot of hard rock too on this album. There are also some eclectic prog here too and some theatrical prog too. The crude looking art-work gives some strong hints what this album is all about.
The keyboards and the guitars works very well with the vocals here on the more or less straigth melodies here. Some of the tracks and stuff is pretty eclectic.
The sound is surprisingly good too. The sound is actually very good and Black Widow Records has done a great, great job here. The vocals are also good.
The music is a bit so-so-so. Not bad but not good either. The music is somewhere between decent and good.
Check out this album if this interest you.
2.5 points