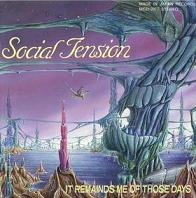 The second and final album from this Japanese band.
Their 1989 debut album MacBethia did not overly impress me. Very ELP at times and a good album.
The band is again a trio with the same lineup as ELP. That is keyboards, drums and bass. There are also some Japanese vocals here.
We get the same here as on MacBethia. Bombastic ELP like symphonic prog. We also get an 18 minutes long suite here which is very bombastic.
There is also some more vocals orientated pieces of music here. The male vocals are OK and suits the music. These pieces also introduces Japanese pop music into this album.
Where MacBethia was a bit innovative, this album (It Reminds Me Of Those Days) are not that innovative and does not sound that fresh. This album plays it safe and does not go out on a limb.
This album is also thirty-six minutes long too and it seems like the band is running out of steam here.
On the positive side, there are some good stuff here. A lot of good stuff. But not enough.
You can get both albums on 1 CD as 2 for 1. Recommended if you love ELP or symphonic prog. If you can get this without breaking the bank, go for it.
2.5 points