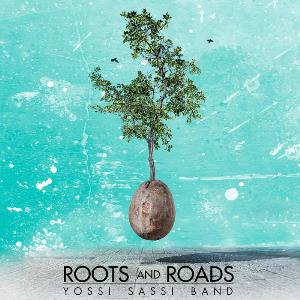 The third album from this Israeli artist.
Yossi Sassi was the founder member of Orphaned Land. A band now resting in peace somewhere in the Megev desert.
Yossi Sassi does vocals, guitars and some traditional acoustic instruments. He has got help from twenty other musicians here. That includes both well known and lesser known musicians.
I really liked Orphaned Land a lot. Their now 22 years old debut album Sahara blew my mind. Their 20 years old follow up album El Norra Alila was also a genre defining album. The band was and still is one of the greats in Middle-East orientated prog/metal.
To a great deal, Yossi Sassi is continuing the work Orphaned Land laid down. You get tonnes of Middle-East influences mixed with prog metal and neo-prog. Yossi Sassi does not hide his roots.
Which is great as I prefer the way he has chosen instead of taking a total clean break with his past. Respect and love !
I have never really been comfortable with the pop aspects on his two latest albums. Inbetween some good prog metal and prog rock, we get at least one commercial song which does not sit well with the rest of the material.
Roots And Roads is a much more coherent album though. This despite of the 20 + guest musicians. Which make me wonder why he is now suddenly Yossi Sassi Band....... That aside, the music here is good. The Middle-East aspect is stronger than ever. So much that the prog metal and prog rock is taking a bit of a backstage. Of all his three albums, this one feels like the most Israeli album.
My main gripe is the lack of any great tracks there. There is none. I also wished that a band really meant a band as in a tight unit. There are too many cooks here. Nevertheless, this is a good album and one to check out. This from an artist who becomes more and more interesting by each album.
3 points