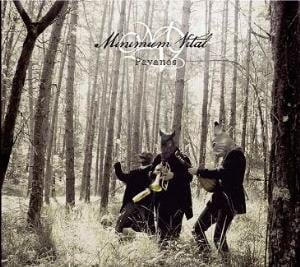 The seventh album from this French band.
The band is a trio on this album with a lineup of percussions, acoustic and electric guitars, oud, keyboards, vocals and woodwinds.
I have been a reasonable eager follower of this band and have reviewed most of their albums for ProgArchives and this blog. I have also interviewed the band for ProgArchives. So the rumours about the demise of this band has saddened me. This is rumoured to be their final album. Even as their other band; Vital Duo. It is sad because the prog scene need bands like Minimum Vital and Vital Duo. Bands who pushes the envelope.
Something the band is doing here. Very much so.
Take jazz structures and strip them bare. Add folk and medieval folk music to them and some rock. That on a double CD, ninety-five minutes. Which is a big mouthful.
This album is also very much a challenge for the listenener. The music sounds a bit similar throughout this album. And that is true. There is not much variations here. The themes used here is down to a couple of themes. The band is adding flavours and variations to these themes. Repetitions with variations is the theme here.
Basically, you have to be into jazz to really like this. No matter how much the band is playing medieval folk music on this album.
This album is too much of a mouthful in my opinion. The album feel a bit claustrophobic. In particular after ninety minutes. This album is indeed minimalistic, despite of the folky, lush sound. And it is indeed a very lush album too. This despite of it's limitations.
This is indeed a good album and one I like a lot. I hope it is not their final album. But please open up the landscape next time around. I feel I have been running through a narrow, lush canyon on this album.
3 points