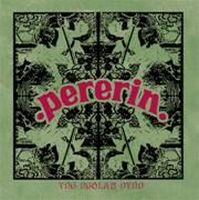 The fourth and final album from this Welsh band.
Pererin was a five piece band on this album with a lineup of guitars, mandolin, violins, flutes, percussions and Welsh male vocals.
Welsh is a pretty flowery language. Wales is the nation in Great Britain where the singing is reputed to be strongest. I got one multiple-Oscars winning Hollywood movies marketing that myth. A myth which may be true or false. I do not know. But I like this myth a lot.
Vocals is what we get a lot on this folk rock album. An album and a band who flirts a lot with pop and progressive rock.
This flirtation is evident on this album. An album which I guess Mostly Autumn and the likes of them must have known about before they set out on their career. But it is the Scottish band Runrig I get some associations with when I am listening to this forty minutes long album.
The songs on this album is mostly pastoral with a lot of melancholic ambience running through them. The vocals is very good and it is both unusual and great to listen to this Welsh language. A language very much underused in the music scene.
The end result is a good album which has a lot to offer to both the folk rock and the prog rock fan. This is very much an album well worth checking out.
3 points