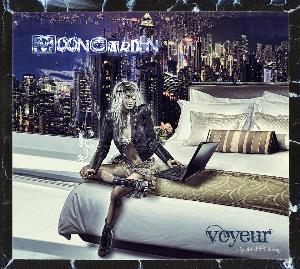 The seventh album from this Italian band.
Moongarden is a six piece band on this album with a lineup of violin, keyboards, bass, drums, guitars and English vocals.
I am not the most avid follower of this band. I am a big fan of progressive rock from Italy though... But Moongarden has always been more Anglo-English than Italian. Hence my slightly lukewarm feelings for them. You will find my reviews of two of their albums somewhere else on these pages. Scroll down the alphabetical list of reviews.
The basis for their music is neo-prog. A very basic form of neo-prog with some strong hints of progressive metal. That and some rock and nu-metal influences.
There is not much Rock Progressive Italiano (RPI) influences in their music. There is none on this album. You will find some Genesis influences, though.
This fifty-five minutes long album sounds very commercial and slick. It has a pretty big sound too. It is pretty low on substance though.
My main gripe is the lack of any really great stuff. Half of this album is good and the rest of the album is barely decent. I am trying to find out what really sets this band and album apart from other bands in this genre. I am failing a bit here. Hence my rating.
2.5 points