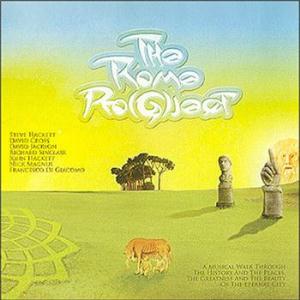 Rome, the eternal city and capitol of Italy deserves a tribute album or ten. It is a bit strange that it took the scene so many years to finally come around to do it.
And it took an Anglo-Italian project to do it too. The project, a various artists project, is fronted by Steve Hackett although I suspect it was created and lead by Vincenzo Ricca. Steve Hackett's brother John Hackett also contribute with flutes. The album starts with a long Italian monologue (a tribute to Rome, I guess) and then breaks into some long and lingering melodic instrumentals. Mostly lead by Steve Hackett's excellent guitar solos. Other prominent instruments are keyboards and flutes. The bass and drums are anchoring the music too and gives it a lot of punch. The sound is beefy to say at least.
The result is an album with plenty of great tunes. All of them in the bombastic symphonic prog mould. I am by no means a fan of overly pretentious projects based on overblown egos. In this case though, the eternal city gets what it's deserves by this project. An album that does not sell this city short. Both in the artwork, the song titles and the music itself. The Hackett brothers does a brilliant job and this is surely one of the better albums Steve Hackett has ever been involved in. Vincenzo Ricca and the other Italian contributors also gives Rome the credit this city deserve. And this album really makes me want to visit and discover Rome. I have never been there. But I will probably go there later this year. This album has sown some seeds in my head.
This is a great album which will appeal to all fans of Steve Hackett and instrumental symphonic prog.
4 points