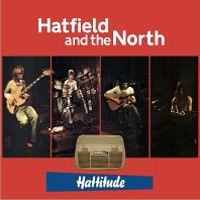 A posthumous album with live tracks from the 1970s. The line up is the classic line up, arguably one of the best ever line ups from the Canterbury, namely Phil Miller on guitars, Richard Sinclair on bass and vocals, Pip Pyle on drums and Dave Stewart on keyboards. What can go wrong with this line up ?
Well, nothing on this compilation of live songs. Richard sings as good as he has ever done and really adds warmth to the songs. The other three is excellent too with great musicianship on their most known tracks. Tracks which is in the middle of the Canterbury tradition. The sound is great too with a great audience participation too.
The result is one hour of great, hugely enjoyable music. It is also a timely reminder how great this band was and that I should really dig out their two studio albums again. OK, this is a compilation of live tracks though and not a real live album. That shows and take some enjoyment out of this album. But this is still a great hour, made into many, many hours by myself who finds it hard to let this album go and write a review. O boy, they don't make music like this any longer. Sadly.
4 points