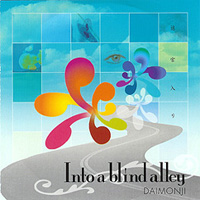 The second live album from this Japanese zeuhl band who up to then only released live albums. They released a studio album the year after though.
I really liked their first live album. Their mix of jazz and zeuhl were and still is refreshing. The band, who consists of members of Ruins and some other Japanese avant-garde bands, continues down the same path on this album. They sound very much like Magma throughout. Magma at their most jazzy moments. Offering is also another good reference. The band also use both male and female operatic vocals. Most of the vocals is totally over the top mad. The Hammond organ is the platform where the music is being performed from. That means with bass, drums and some guitars. Their use of Hammond organs reminds me a lot about what Mike Ratledge in Soft Machine did on the third to six album.
As expected from a Japanese zeuhl album, the music is very frenetic and sometimes chaotic. There is no real great music here though and I feel the band is running a bit empty here after their great first live album. A bit more quality would had been a good thing. This is still a very good album though...... in small dosages.
3.5 points