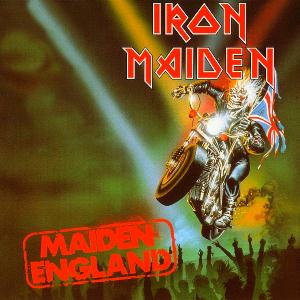 Iron Maiden live albums....... hmmm..... There is a lot of them.
Maiden England was originally released in 1988'ish and was one of the best selling VHS gig videos of all time. It was about time it also became available on CD too. 1988 was their first real best year with a sold out Donington Park (107 000 people) and a best selling album called Seventh Son Of The Seventh Son. I also saw them in Drammen, Norway on the same tour as this live album documents.
It is a pre requisite that you like the Seventh Son album if you want to get this album. Me..... I feel this album has fallen a lot in my estimation. I am still a big fan of Powerslave which for me is the ultimate Iron Maiden album. An album which still gives me great pleasure. Seventh Son is a bit too polished for my taste. Maiden England relies heavy on that album and includes some Iron Maiden songs I do not particular enjoy. Wasted Years is a good example. On the positive side, getting the Seventh Son title track live is great and it is sad that they don't play this song more often live. That is the best song on this album by a mile or two. Infinite Dreams is great too. The rest....... well, the nth version of Halloved By Thy Name and Iron Maiden is met by a resigned shrug by myself. I love the first song. But much better versions can be found at the Live After Death live album from 1985.
In short; those who want everything by Iron Maiden (that includes myself) will lap up this album. Those who loves the Seventh Son album will love this live album. I give it a very good status.
3.5 points