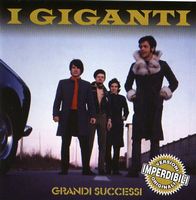 A cheap 2 CDs compilation album from this 1960s Italian beat combo who made a brief foray into progressive rock on their Terra In Bocca album in 1971.
What we get on these two CDs is their beat material. They sounds like any other beat band from that era. Animals, early Moody Blues, etc etc. This though with an Italian sound to it. Not only the vocals, but also a lot of influences from the Italian folk tradition. The same source the Italian symph prog scene also took a lot from during the 1970s. They drink from the same bottle, but the result is pretty different.
The songs here sounds dated and naive. The songs are not particular interesting either. I would not dismiss this band or this album though. But it is only an album for the beat fans out there. The rest of us can bypass it. Nevertheless, a decent album.
2 points